The joint cartilage is a bluish tissue of a gel form with the thickness of 4 to 6 mm, which covers the tip of a bone, and has a structure in which a net-like framework made of collagen fibers is entangled with proteoglycans including chondroitin. It is softer than a bone, and contains a synovia and provides lubricating performance whose surface frictional coefficient is lower than the contact friction between ice and ice. Due to the presence of this joint cartilage, bones of the joint do not come into direct contact and can move smoothly (Fig. 6). The joint cartilage protects our bones and joints. And it is chondroitin that protects this joint cartilage.
Fig.6 Joint cartilage and chondroitin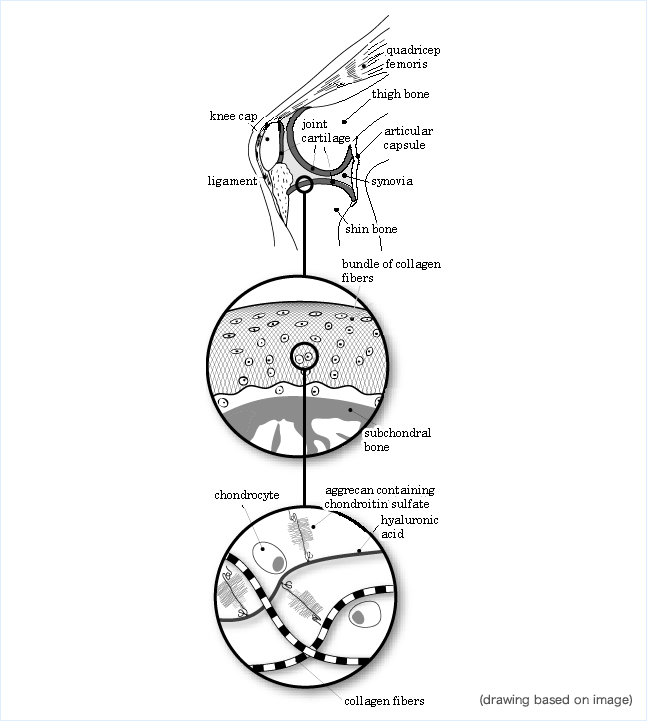 Chondroitin ("chondroitin sulfate") is formed through sulfation of "Chondroitin" that is synthesized from monosaccharide (glucose) and amino acid (L-glutamine), via glucosamine formation, in the body. The enzyme participating in such sulfation reaction, "Chondroitin Sulfatase" shows substancial decreases in its activity with ageing. This causes decrease in chondroitin content in the cartilage, leading to serious decline in the elasticity and plasticity, and subsequently to worn out condition or breakdown of the joint cartilage. Under those conditions, the bones rub against each other and are expressed osteophyte and/or deformation that cause compression of sensory nerves, resulting in the joint pain and stiffness.